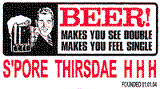 THIRSDAE HASH HOUSE HARRIERS
established 7 August 2003
Run Report
Run No : 26
Date : 04/03/04
Venue : Chestnut Avenue, PUB Quarters
Hares : Sukhdev and Sayething
No. of runners: 20 including guests Sandy Lee, Peter Bloomer, Alison Bloomer and Brenda Tan.
The run started at the junction of PUB pump house quarters along Chestnut Avenue and towards construction site at end of the road. The trail continued from there into the wooded areas across other side of BKE between Upp Pierce Reservoir and Upper Seletar Reservoir. Crossing the dam of Upp Pierce the trail joined track connecting Zheng Hua park, skirting Bukit Panjang HDB estate and returning to the quarters from the back.
The heavy afternoon rain did minimum damage to the paper markings nor flour markings and the runners were kept together throughout the run. The run was considered a little long for Thirsdae though.
First runner in was just under 1hr 15 minutes.
Circle
Forget Me Not was the first to be invited on ice. This Thirsdae member had only done one run so far ..
Sticky Tissue and Muruku Mama were "guiding" Agar Agar along the "trail" through streams and lonkangs... only to realise that these mamas were actually misleading her to get her feet wet..... mamas on ice.....
Spiker was iced for turning up at next week's run site .... but that was not the reason for being on ice .. except ... he was the one sending out the e-mail to everyone each week advising on the next week's run .!!!
Dinner was home cooked chapati with minced pork instead of minced mutton which is more common. Delicious with lovely Indian spices. Simply irresistable !!