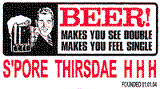 THIRSDAE HASH HOUSE HARRIERS
established 7 August 2003
SCRIBE REPORT
Run Report 159, Blk 456 Ang Mo Kio St 44
21Sep06
Hare Dead End flagged off the pack at 6.00pm. The trail led the runners through the tunnel under the CTE onto Serangoon Garden Way. Soon the pack encountered the first T-check followed by the first Circle-check, allowing the slow runners to catch up with the front runners.
The leaders did not break the T-check at Kensington Park Road properly, causing the slow runners to go on to the wrong trail. The trail led the runnerspast the backyards of houses. The barking dogs and metal gratings were some cause for concern; whether someone might be bitten by a dog or fall through the metal gratings.
The trail was mostly on hard surface in the maze of roads within Serangoon Garden Estate. It was hot and quite risky owing to heavy vehicular traffic. The "uphill" run was a little torturous, but the runners survived the ordeal.
Thump up for Agar Agar, who was marking the trail as she ran along. In spite of her effort, Sleeping Dick managed to lose his way, leading new member Sandra astray with him and finishing last. Wonder whether he was running in his sleep or sleeping on his run !?
During the Circle, new member Sandra was welcomed with a cold shower from the ladies who seemed to enjoy the task with glee. Poor Sandra, the beer and icy shower were a bit too much for her. She had to retire early, although she did enjoy the run and the fun.
Recorded by Sandra, with a little help from RO
25Sep06