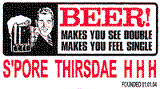 THIRSDAE HASH HOUSE HARRIERS
established 7 August 2003
SCRIBE REPORT
Report on Run 144 at Blk 621A Choa Chu Kang St 62
On-on was announced by JM BigBin at 6.00pm. After a little confusion, runners found the trail along the MRT track towards Choa Chu Kang North Ave 7. There the trail croosed the canal and railway track into the bushes.
After several twists and turns, uphill and downhill, T-check and circle-check, the runners found themselves somewhere at Sungei Mandai.
It was nearing 8.00pm, and it was getting dark. Slow runners such as Morning Cock, Sleeping Dick, Agar Agar, Roll Over and new member Vincent stayed close together. After going uphill and downhill again, at some intersection of the trail, the slow runners found Sayeting waiting for them. He passed a torch light to the weary runners, who felt much relieved, as it was difficult to see in the darkening night sky.
Struggling to move on, the tired group met Not Enough at the edge of Sungei Mandai. The runners went down to the canal and walked along its bank. After walking in the tunnel under Woodlands Road for a seemingly endless long time, and treading through knee-deep water for metres on end, the group surfaced at Kranji MRT Station. They were met by Humpback. What a relief! Humpback arranged for MRT tickets for the exhausted runners to take the MRT back to Yew Tee Station, and on on to the Circle, followed by a sumptuous dinner of Penang noodle and pork ribs, thanks to the culinery skill of Hole-in-One!
Recorded by
Roll Over
8Jun06